Start Here To Fulfill Your Continuing Education (CE)
A few important first steps:
If you have not already set up your account, please click here to learn how to reset your password.
If, for some reason, your email address is not already in our system, you will be able to create an account once in the student portal.
Click the log-in button (highlighted below) from the home screen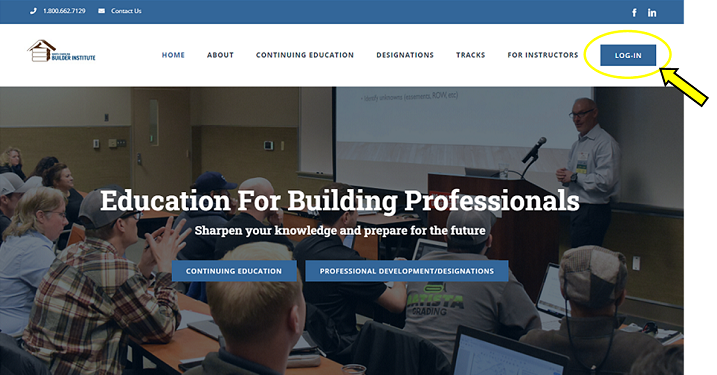 You will see the page below. Once you have entered your email address and password, click the "Login" button

Once you are logged in, you will see a menu along the left-hand column of your screen that displays a "Shop" option: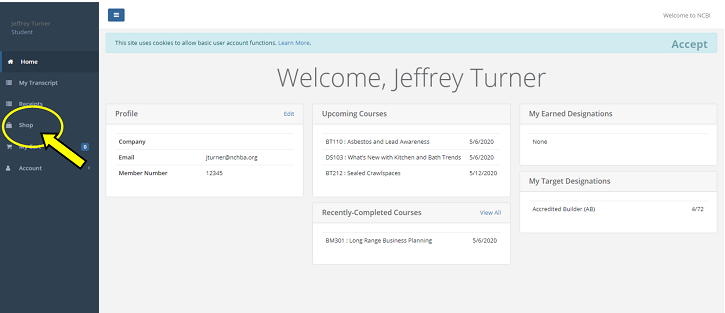 When you click "Shop" you will arrive at the "Upcoming Courses" page that displays information such as course title, date, time, location, instructor and price. See steps below to search, select courses and checkout:
1) You may search classes by location using the filters to the left. Note: the site defaults to show all courses and locations. If you wish to narrow your search, select a few locations with check marks and click the "Apply Filters" button.
2) At the bottom of each course listing there is a blue button to either "Add To Cart" or "Go To Website". In the case of the latter, this means that a local HBA is administering this course and so you must register through an external website. For classes offered by the North Carolina Builder Institute, you will simply click "Add To Cart".
3) Once you have finished selecting classes, proceed to checkout. (IMPORTANT: Are you a member of the North Carolina Home Builders Association? Click here for instructions about adding your member PIN to your account.)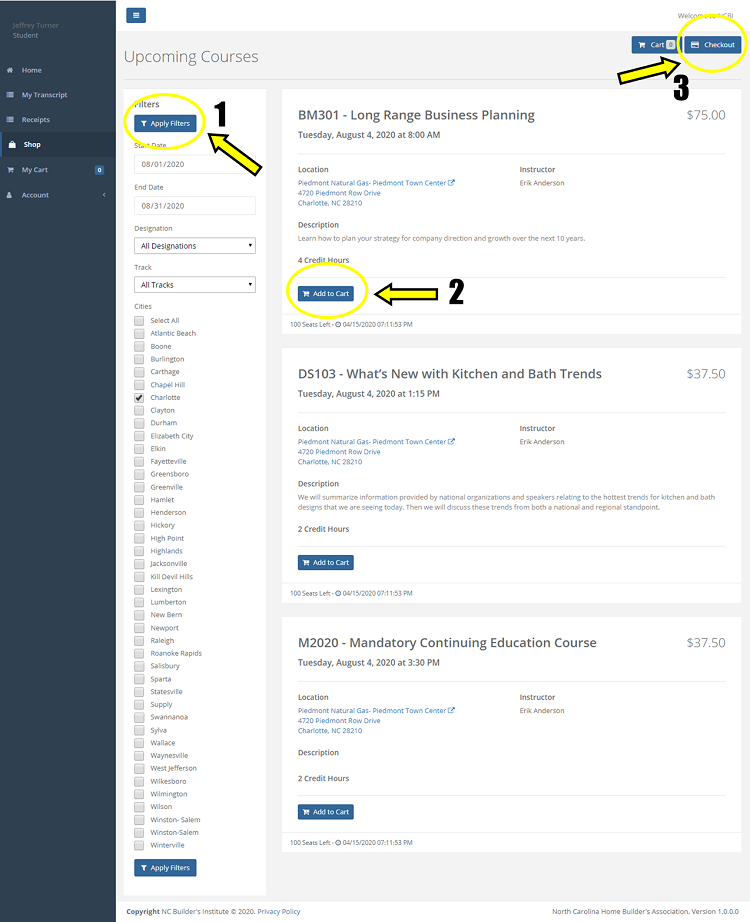 Questions?
Thank you for your patience as we continue to tweak our site and make signing up for classes as easy as possible. Please reach out if you have questions about NCBI or how to register! Contact
Alison Barnes by email
or call (800) 662-7129.